Introduction
In the beginning the world was ruled by demons! Leng and Tesk, both alike, slaved beneath the gazes of the Demon Gods Ishok and Talok, cursed be their names. Then the Younger Gods rose up in rebellion against them. There was bloody battle; the world was devastated; but at last the Demon Gods were overthrown, and their bodies were severed, part from part, lest they rise up again. Their limbs became the hills, their blood the seas, their bones the mountains. Those of the Leng and Tesk who had sided with their masters were driven howling from the new lands.
Then the Younger Gods were weary, and sore from their wounds, and knew that they could not live any longer in the world they had made. Instead they sought amongst the races of men to choose Guardians to protect the land in their stead. They gave the north to Thalor, bookish and learned. They gave the east to Somecar, master of magics. They gave the south to Elphas, hunter of the marshes. And last of all they gave the centre of the world to Lycaster, wisest of men. Thus were our holy nations brought into being, and woe betide the man who thinks to tear them asunder.
High Priest Kaal
This is a time of chaos. The Empire of Lycastria is old and fading. Some might even call it sick. The Empress sits on her throne in grand Conai, issuing pronouncements, but her Strategos dare not march their legions beyond the Lycastrian plains to enforce them. Elphas, Lanorn, and Benden squabble over the southern trade routes, while Thalor vanishes into rheumatic isolation. And Somecar, ahh Somecar, flouts the ancient laws against dark magic and prepares to put its own prince on the throne.
Do I sound pessimistic? Far from it! Chaos equals opportunity, profit, wealth! The princes are manoeuvring themselves for war, and I plan to become fantastically rich from it!
Makar, Merchant Prince
My time has come.
Prince Laslo of Somecar
Welcome to The Prince
The Prince is a game of rival Kingdoms at war. The Princes and Princesses of the Lycastrian Empire have set their sights on the Empress' throne, and will stop at nothing to see their rivals crushed.
The object of the Prince is to put yourself on the throne, by reaching 50 Standing, or to destroy your opponents, by running them out of cards.
Your Deck
A Prince deck consists of your Retinue, which contains 25 Puppet cards common to all decks, and your Kingdom, which contains 50 Kingdom cards or your choice. You may not have more than 3 of any one Kingdom card in your deck, unless a rule on a card says otherwise. For more details see the rules on deck construction.
Overview of Play
The Prince is a game for two or more players, each of which has their own deck.
All players take their turns simultaneously, moving through four phases : Start, Build, Conflict, End. During the Start phase players draw cards. During the Build phase players put cards into play. During the Conflict phase they engage in conflicts, gaining or losing Standing, or taking damage. During the End phase cards are put into play, and special actions used.
In each phase players take it in turns to take actions, using cards from their hand, or from cards which they have in play. Costs for these cards are payed by discarding cards, or by paying Standing. This Rulebook also provides Rulebook Actions which are always available.
Winning and Losing
A player loses the game immediately if at any time their Kingdom deck is empty (revolt), or their Retinue deck is empty (coup). If any player reaches 50 Standing at the end of a turn, then they win. Otherwise a new turn begins.
Game Layout
Below is an example of a game in play.
Your two decks, Retinue and Kingdom, are placed to your left and right respectively. The cards in these decks are face down. The discard piles for each deck (Graveyard for Retinue, and History for Kingdom), are placed beside them. The cards in these decks are face up. Between the two is your Court, where Puppets who have been in conflicts are placed until they are ready to return to your hand.
Above the Court you can see some cards which are in play: Locations, which represent physical parts of your Kingdom; and Edicts, which represent political gambits. A Puppet is Stationed at one of the Locations. Puppets are the minions that serve you.
Retinue

Your Retinue deck contains Puppets. Every deck has the same set of Puppets (Soldiers, Sergeants, Lords, Generals, Count, Bishop, Princes, Duchess, Emperor). If you are in need of a Puppet, you can draw from this deck.
When a Retinue card is destroyed or discarded it goes to your Graveyard, the discard pile for the Retinue.

Kingdom

Your Kingdom deck contains all sorts of cards (Puppets, Actions, Combinations, Enhancements, Locations, Objects, Edicts). Each player's Kingdom is different — you construct your Kingdom deck yourself. You can draw from this deck instead of from your Retinue.
When a Kingdom card is destroyed or discarded it goes to your History, the discard pile for the Kingdom.

Court

Your Court is the area where Puppets go to recover after being involved in conflicts. Your Court has four sections, numbered (left to right) from 1-4. When we refer to "Court (4)" we mean the 4th section. At the start of each turn Puppets in the Court are moved one space left; puppets that move off the left end are returned to your hand. Puppets can also be moved right by various cards, but you can't move more right than the 4th space.
Puppets in your Court are in play, but they can't use their abilities, because they are resting (or occupied with court duties), unless the ability specifically says so.

Standing

You also have a Standing score, which measures how close you are to winning. Your standing is not an area of the game, but you may wish to use dice, counters, or some other method to record your standing.
Anatomy of a Card
Puppet • Setup
Setup
Pay this card's cost to start with it in play
Scout
(END : Pay 1c when this card is in your Court, and return it to your hand, to look at any one face down card)
Without knowledge, we are blind.
Arum, mystic
This is a Puppet. Puppets are minions that work for you, and help further your aims. Puppets come from both your Retinue Deck (all Puppets) and your Kingdom Deck (which has Puppets if you choose to include them).
Its name (Unlikely Scout) is shown in the box at the top. Under the title are two icons. The top icon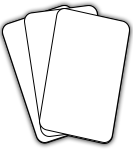 shows that the card has an ability that allows you to start with it in play. The second icon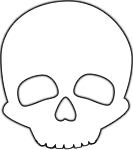 indicates that the card is unique, you can only have one in your deck.
Under the card image are the Keywords, in this case Puppet • Setup. These keywords remind you of the card type, and the main phase it is used in. You may see other Keywords like Demonic, Ishok, or Mercenary. These tell you more about the card, and may allow you to use certain actions.
Below the Keywords is the action section, containing any actions that the card allows you to use. This card has two actions. The first can be used in the Setup phase. The second, Scout, can be used in the end phase. The Scout ability has reminder text (in parenthesis) to tell you what Scout means.
At the bottom of the card are three numbers. The Military Strength (left hand corner, outlined in red) and the Political Strength (right hand corner, outlined in blue), are used in conflicts. The number in the diamond is the Cost. A cost always consists of a number (3) and a type (c). In this case 3c means that to play this card you must discard 3 other cards from your hand or deck. Other costs are described in the rules on costs.
If a Puppet ends up in play without being played, put it in your Court (4).
Puppet • Political • PrincePrince of leaves
Glory 2
(REACTION : When this Puppet wins a conflict, gain 2s)
Hand Start
If Collos Taal is in your hand, put him in your Court (2). Search your Kingdom or Retinue for a card with Glory and put it in your hand.
"I do not need to claim titles to acknowledge my power. The trees and vales of Benden know my name."
This Puppet is different from the one above. The top icon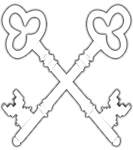 indicates that this Puppet is placed in your Retinue, rather than your Kingdom, replacing a card there. Since this card has the Prince keyword, it replaces a Prince from your Retinue. For more details see the rules on deck construction.
This Puppet also has an Epithet which is the keyword in italics "Prince of leaves". This distinguishes unique cards with the same name from one another, so if you had another unique "Collos Taal" card with a different Epithet, you could have both in your deck.
Finally, this Puppet belongs to a Faction (in this case Benden), which means it cannot be in the same deck as a card from a different Faction. The second icon is a reminder that this is a Faction card.
Action • Tactic • Military
Tactic
+4 Military Strength
Half measures are for the weak
Count Talos
This is an Action card. Action cards are played from your hand to take an action, then discarded to your History. This particular action is a Tactic. Other types of actions include: Start, Declaration, End and Reaction. For more details see the rules on actions.
If an Action card ends up in play, put it in your History.
Together... victory, apart defeat, this is the lesson that the Grand Empire itself should have taught us long ago.
Duke Faragos
This is a Combination card, which allows you to include multiple Puppets in a Conflict Hand. It lists a Required Puppet in bold at the top of its action box — you must have this sort of puppet in your Conflict Hand to activate the Combination. Below, following the + sign, it then lists one or more Combined Puppets which have their conflict cost waived by the Combination.
For more details see the rules for combinations.
If a Combination card ends up in play without being played, return it to your hand.
Placed • Object • Demonic • Ishok
While the Eye is in play all cards have their costs increased by 1c
Those who stare into the eye are infected with the dead God's madness; and mistake it for wisdom.
Arum, Mystic
This is a Placed card. Placed cards are put into play in the Build phase, and then stay in play for the rest of the game, unless some effect removes them. This particular card is an Object. Other types of placed card include: Locations and Edicts. For more details see the rules for placed cards.
If a Placed card ends up in play without being played, put it in your History.